Specialty Lubricant
Business area of Hanyu SK ETS spreading throughout the world.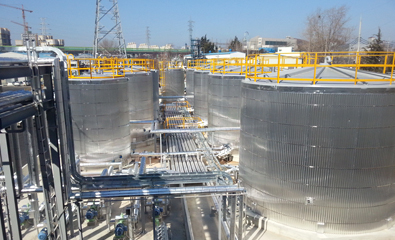 Our specialty lubricants division develops, produces, markets and sells specialty lubricant and antifreeze that are mostly applied to the industrial field. The specialty product business division pushes for tech-biz by taking a speedy and flexible approach with enthusiasm and passion while ultimately aiming to satisfy all stakeholders.
Metal Processing Oil

SK metal processing oil made with the highest quality base oil classified as highly refined synthetic oil as well as carefully selected additives exhibits the highest performance that can respond to machine tools and machine processing trends that push for the highest precision and advancement. it is considered as a best metal processing oil product that can optimally satisfy requirements with regard to changing processing technologies that have been diversified and specialized as well as environmental protection that is a matter of common interest at home and abroad.

Industrial Special Oil

SK special industrial lubricant includes heating medium oil, compressor oil, refrigerating machine oil, bearing oil, side-way oil, spindle oil and other special products that perfectly satisfies customer needs and realize the highest performance of machine facilities.
In addition, SK special industrial lubricant is expected to make a great contribution to extending life of equipment and facilities and reducing their operating costs based on the highest quality lubricant and special additives made with advanced technology.

Anti-freeze

We are leading the after service market by securing our own antifreeze technology through technical affiliate with Prestone, the world's No. 1 antifreeze company, leading the 3rd generation antifreeze market for the first time in South Korea. We also possesses the unique technology of Brine products in the industrial antifreeze market.

Spray oil

It is emulsion-type insecticide and sterilizer aimed to prevent diseases and insect pests harmful to crops. Since it is made with highly refined food-grade white oil, it is harmless to the human body. It is also least likely to cause damage to produce due to optimized molecular weight.
The product was designed to be diluted with water before being sprayed, and it is very effective in preventing such harmful insects as leaf mites and fungus-related diseases. The oil can be used alone, or it can be mixed with microbial pesticide or chemical pesticide.

Electrical insulating oil

Mineral oil-based electrical insulating oil is manufactured from the finest base oil with excellent thermal stability and oxidation stability, and it has excellent electrical and low-temperature characteristics, and shows stable and excellent performance in extreme hot and cold seasons. Vegetable electrical insulating oil is a flame-retardant product that is safe against fire and is recognized as an eco-friendly product with excellent biodegradability.

Process Oil

Process oil is highly refined lubricant (except for some products) from API Group Ⅲ based on dewaxing and removal of harmful aromatic compounds through hydrocracking, and it is colorless, odorless and tasteless. It is widely used as an environmentally friendly harmless product.
The current state of certification
FDA Certification

(Food grade white mineral Oil)

FDA 21 CFR 178.3620(a) regulation

- Indirect food additive: adjuvants, production aids and sanitizers.

FDA 21 CFR 172.878 regulation

- Food additives permitted for direct addition to food for human consumption.

USP/NF : US Pharmacopeia/ National Formulary – Light Mineral Oil
NSF Certification

NSF H1 Certification

- H1 : This product is acceptable as a lubricant with incidental food contact(H1) for use in and around food processing areas.
Korea Food and Drug Administration (KFDA)

Liquid paraffin (White oil) Certification

- Acquired certification from a KFDA-recognized institution.